I don't know about you, but I was feeling a certain void in the tech 3 land armies; the ability to reliably fend off pesky advanced bombers, and to a certain degree lend assistance to the Air Forces protecting the armies from real threats. Mobile flak is nice and all, very powerful for it's price, but in the long run it will contribute more for bumber cars and pretty fireworks, and those bombers are still eating your army. I know the solution! ASF spam! But it gets boring when the late game is all about the biggest horde of ASF, with land owned by the air dominance and little way of getting back on your feet against the angry swarm of hornets.
I didn't see anyone giving much of a go for it, so I decided to give it one. And here they come: Tech 3 mobile anti-air units, for every faction, with faction diversity in mind (I don't like clone units, even if it means perfect balance).
And now to the more fluffy part: Introduction!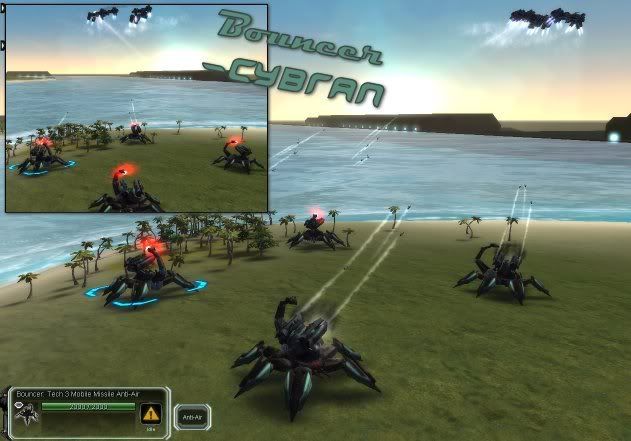 Bouncer, a crude but effective Cybran tech approach. Firing a pack of simple guided missiles and ensuring the hit with a target painter. All mounted on a steady mobile platform for reliable shots on the move. The Bouncer AA bot is a welcome addition to the Cybran land force relying on mobility and performance.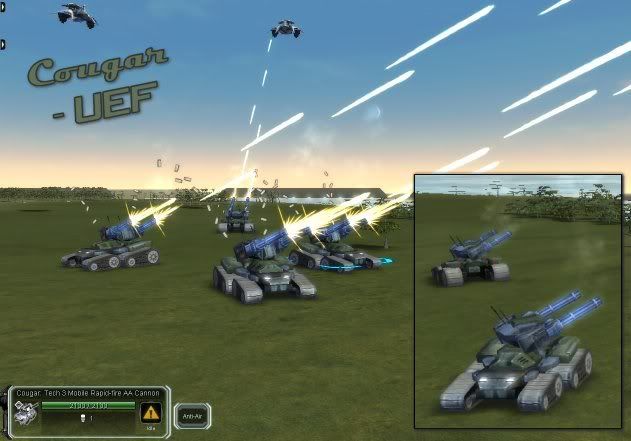 Cougar, a traditional UEF approach on bringing down better armored aircraft. Armed with dual turret mounted long barreled gatling AA cannons, the Cougar sets to fill the sky with hot hybrid slugs rather than attempting delicate solutions. What it saves in complexity it gains in sturdiness, the UEF way.
Redeemer, Aeon's answer to the arms race to improve land armies' AA capabilities. Protected inside it's smooth armored covers it carries a high powered anti-air version of the favored Serpentine tactical warhead. Sacrificing payload for better engines and a guiding system, the missile is extremely well suited for picking out the fastest of aircraft. The Aeon have a certain way of elegance, and so the Redeemer sets to do one thing, and do it well, without unnecessary fireworks.
The Seraphim tend do things differently, more often overdoing the whole concept in the process. With unfathomable forces at their disposal, the Seraphim engineers have created the Uyanah, basically an uncontained power core mounted on a stabilizer ring on a mobile platform. When removed from the stabilizer the power core can emit vicious lightning arcs much alike the ones emerging from the power residue of a fallen Ythotha. These arcs can connect to both flying and grounded targets, making the Uyanah useful even outside it's primary role as an advanced AA unit.
So there you go, these thingies are available in the stores near you and also on post order... no, actually here
Updated version v3-4
Direct download
Delete the older version before using the newer one, and recheck it is on on the mod manager.
Note: This mod is best used with Community Patch mod, since the beam weapon fix affects the Seraphim Uyanah! This mod is also now included in the package of the Community mods for your convenience!
Changelog v2 -> v2-2
-slight rescaling to fit them better to T3
-rework on textures to make them more crispy especially when zooming out, also made the Aeon one less dim compared to other Aeon units
-so purely graphical improvements now, as no idea of balance issues of yet
Changelog v2-2 -> v3
-Bouncer has had it's fire cycle altered to be more Cybran-like
-Bouncer's weapon can now also be toggled to ground fire
-Megalith can now build Bouncers
-Fixed issues with unit collision sizes, mainly caused the Bouncer to get stuck in factories completely surrounded by power generators
-Uyanah has had it's ground lightning slightly buffed to make it clearly better than the Bouncer ground fire
-Selecting
no downloaded
from the unit manager will prevent these units from being built
Changelog v3 -> v3-2
-Added Sorian AI 1.4 custom unit support stuff: version 1.4 Sorian AI's now use these units, big thanks to sorian!
Changelog v3-2 -> v3-3
-Cougar has had it's muzzle velocity increased to 90 and it's reload time lowered very slightly (still not fool proof vs. ASF, but a bit better vs. gunships as trade-off)
-Uyanah ground lightning has a slower RoF, making a dps of 80. Range reduced to 26 (same as Ilshavoh). Ground lightning effect made a bit slimmer to look weaker
-Uyanah is no longer considered
direct fire
preventing it from ending up in the front row on formations
-Bouncer has had it's tracking laser graphics redone; it now uses a fading constant beam
Changelog v3-3 -> v3-4
-Fixed a bug in the Uyanah's ground lightning that prevented it from scorching the ground as supposed to
-Added a Mod Manager icon for the mod (finally)
-Fixed some grammary problems in the unit descriptions, so Mooilo doesn't get a headache anymore
I am no programmer, and I started learning modelling around the time I first started making the Bouncer. So yes, they have a lot of witty reuse and scripting done half on pure luck and perseverance
As guidelines for making these I had first and foremost:
-Ability to reliably destroy strat bombers and even ASF's
-Offer the above in a more sensible package than huge swarms of flak
-Not contest the ASF for most valuable AA (pretty much covered, as these units provide consiquences, whereas ASF full prevention)
-Not exceed the stationary SAM as means of areal AA (these should have lower dps/mass, hp/mass and range than SAMs so those should still be #1 choice for base defence)
-Follow faction diversity, and work in different ways (I certainly didn't want to simply slap a SAM tower on top of a tank, and call it a new unit)
-Look cool and fit in the surrounding army formation
I urge you to give constructive criticism and balance suggestions, and not come in yelling how T3 mob AA should not exist, as you can always just not use the mod
. But I personally would like to get these tuned to the sweet spot that to my perception excists there in late game air-land threatre. Hope you enjoy them as much as I liked making them.
Additional credits go to one friend of mine, not actively on this forum for actually helping (yeah you others just liked to nod and say it needs more gunzorz...), and PhoenixIV for the general inspiration on modelling by recycling and trying a lightning type weapon. Also I'd like to thank brute51 for providing valuable change ideas.